About Accurate Express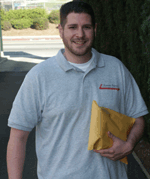 Accurate Express Messenger Service is a California Corporation serving the Greater Los Angeles area since 1981. The founders' goal was to create a competitively priced messenger service that met the demanding needs of the Los Angeles business community.
The original founders still run the organization with the same goals in mind and have paid special attention to ensure that expansions has not reduced the personal care and efficient service to which our clients have grown accustomed.
We are confident that you will find our prices to be competitive and our service to exceed any expectations.